Cash is no longer king these days, as more and more Malaysians are encouraged to make cashless transactions. A study by Visa on consumer payment behavior found that up to 74% of Malaysian consumers have successfully gone cashless and it will take three years for the country to become a cashless society.  
Fast forward to today, cashless payments are widely accepted for their convenience, efficiency, and security. The majority of people attach importance to health and digital security. For instance, contactless food delivery, where the food is dropped off at the door while the customer pays with a mobile wallet, is a popular trend nowadays. In fact, people have embraced the convenience of mobile payments and left cash behind. 
This article examines the importance and advantages of cashless payments for your business.
What is a cashless transaction?
Cashless transactions are payments made or accepted without using cash or coins. They include payments made via debit/credit cards, mobile phones, bank transfers, websites, and other digital devices.  
Based on the study by Visa, the adoption of cashless payments, mainly via e-wallets (52%) and contactless card payments (44%), is growing strongly, as interest in new payment methods such as Buy Now Pay Later (BNPL) solutions (63%) are also on the rise. This is particularly evident in categories such as bill payments, supermarkets, retail shopping, purchases at convenience stores, and restaurants. 
With the increasing adoption of e-commerce and retail, consumers expect shopping touchpoints to be integrated into their daily lives. 
Most merchants in Malaysia accept the cashless payment methods listed below: 
Bank cards: AMEX, Mastercard, Visa, and UnionPay.

 

E-wallets: Alipay, Boost, Grab Pay, MAE, Mcash, Setel, Shopeepay, Touch 'n Go e-wallet, UnionPay, and WeChat Pay.

 

Buy Now Pay Later: Atome, Pay Later by Grab, Mobypay

 

Other: Apple Pay, Google Pay, and Samsung Pay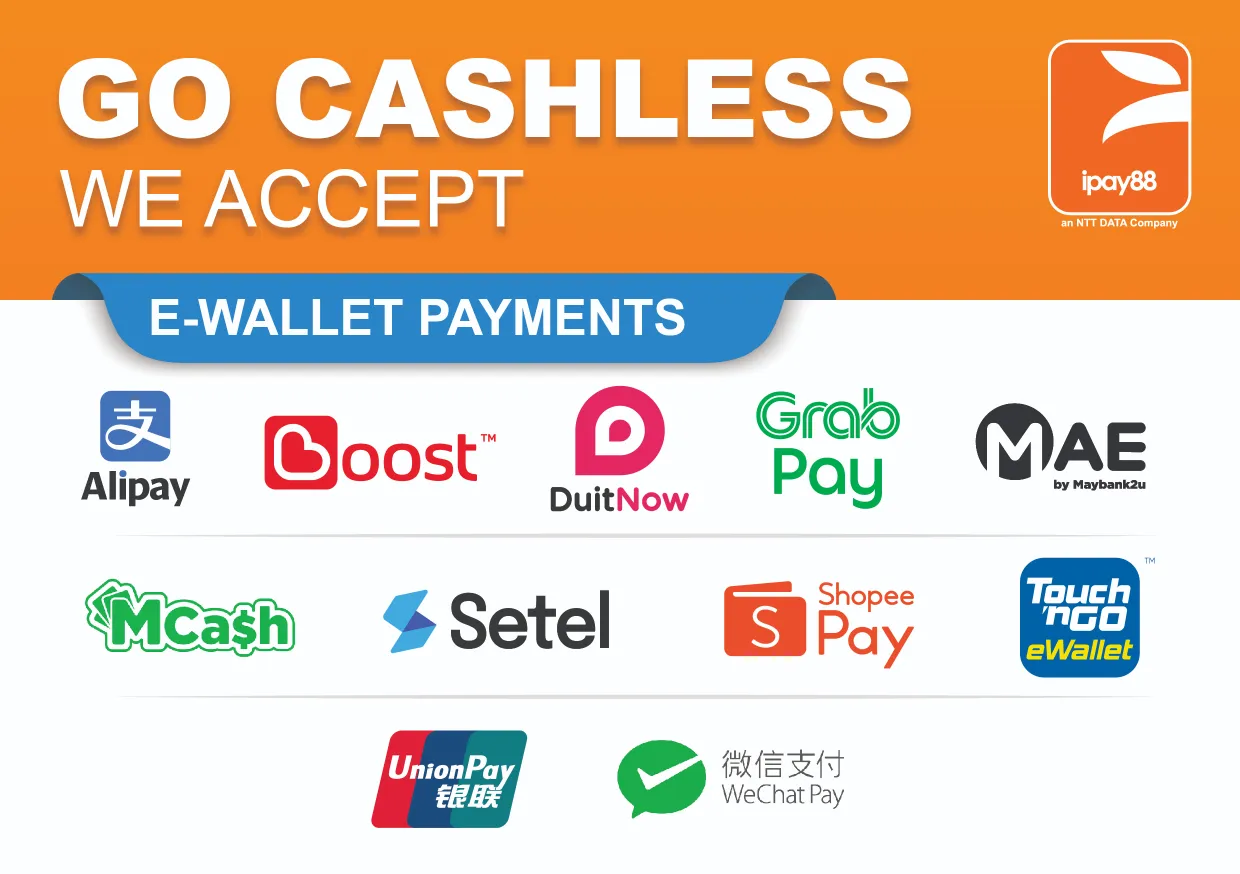 Why should retailers adopt cashless payments in their stores?
Many retailers added digital shopping enhancements since the pandemic hit. The top enhancement refers to buying online and picking up in-store, home delivery, and forms of e-commerce.  
iPay88 has also observed the shift towards cashless payment and the growth of in-store terminals. Innovative retailers are embracing this new reality by using digital to extend their storefronts.  
Let's take a look at the main advantages of cashless payments for your business. 
"Insert, Swipe, Wave" have become increasingly natural as we move towards a cashless society. Even wallets have become obsolete, with many people carrying only a bank card and identification card along with their phone. The convenience of in-store cashless payments (for instance, via Android smart terminal, Payment app, or POS/kiosk) allows retailers to track their incoming and outgoing funds. This saves time and reduces the need for physical contact. 
Consumers today are incredibly used to using digital payments; thus, merchants that choose not to offer them may lose a big chunk of potential customers in the future. As consumers become more demanding, businesses should also adapt to cater to their needs.  
When customers have the option to pay with their preferred payment methods, they are more encouraged to spend more. This is because they don't have to worry about having enough cash with them. 
More than half of Malaysians surveyed said that they could live easily without cash for a week. This is a significant increase compared to the previous years, which also signals that the trend of carrying cash is declining.  
Moreover, customer satisfaction increases with more payment options. Often, cashless payments are faster, which also helps to improve customer satisfaction as shoppers spend less time in queues caused by cash exchange.  
3. Enhanced operational efficiency
Shortened transaction times can lead to higher revenues and shorter queues. According to recent research, cashless payments take an average of 12.5 seconds as compared to cash (33.7 seconds). This means that cashless transactions are faster and require less staff. 
Not to forget that financial reconciliation is also much simpler and less prone to human error as all reporting is done automatically. Cashless payment adoption can dramatically reduce the time spent on counting and reconciling at the end of the sales day, which allows your business to take care of other, more important matters. 
Cashless payment is much safer compared to cash payment. When customers pay with cash, there is a risk that it'll be lost or stolen. There is also a considerable risk of counterfeit notes. However, cashless payments offer greater security because transactions are recorded and can be easily traced.  
There is also no need to carry huge amounts of cash to deposit into a bank account, which also reduces the risks of loss and theft.  
5. Marketing opportunities
Cashless payments can give access to additional marketing opportunities. Since the introduction of digital payments in Malaysia, the digital payment ecosystem has been very competitive.  
Cashless payment providers (such as e-wallets, BNPL, bank cards, and others) run their own marketing campaigns, which are available to all merchants accepting these payments. These campaigns often incentivize users and drive traffic to merchants at no additional costs.  
Get the opportunity to grow your business with iPay88 partners. We regularly run consumer-centric marketing campaigns with our payment partners, and all of our merchants are welcome to participate. The principal requirement is to accept cashless payments in their physical stores.  
Malaysians prefer cashless payments
In a recent study conducted by Visa, 55% of Malaysians said they could live without cash, leading consumers in Malaysia to prefer digital payments over cash. This is a giant leap of 13% if compared to the previous year. 
The reason for this is simple. Cashless payments give more value to consumers. Most digital payments also offer loyalty benefits to consumers. These can be in the form of cashback, points, or vouchers. They give more benefits to the consumer as the value spent gives extra perks in return. Cash payments, on the other hand, don't offer any additional value, and many customers have taken it into account when choosing how to pay.  
For retailers to remain competitive, they need to adapt to the changing needs and preferences of consumers. Therefore, merchants must offer multiple payment options, including popular e-wallets, bank cards, and buy now pay later in order to remain competitive.  
As a result, retailers must keep a close eye on trends and what their customers want. Ultimately, any business's primary goal is to improve customer experience, and payment is an essential part of it.  
Are you ready to accept cashless payments?
As shown in the article, you can gain many benefits from cashless payments, so it's worth starting your cashless journey today. One thing is certain – digital adoption in Malaysia will only continue to expand.  
While urban areas have been adopting cashless practices, there still is much room for growth in more rural and remote places. However, this gives businesses in these areas a competitive advantage of an early adopter.  
However, if you still have doubts or questions about whether cashless payments can contribute to your growth, we advise you to contact our team of consultants, who will answer any questions that you may have.  
iPay88 has helped over 30,000 merchants to digitalize their payment acceptance. Our solutions can be adapted to meet the requirements of any type of business and its needs. Our team of professionals will advise you and propose the best solutions currently available in the market.  
We are excited to help you start accepting cashless payments!