Watch where you are going in the dark at night, because you never know what is coming for you. 
BOO! Congrats if you survived, because who would have forgotten one of the spookiest occasions of the year?
It certainly does not feel like October without embracing the spirit of Halloween. 
And each year, it never fails to send chills to our spines as the internet goes frenzy with heart-popping Halloween ideas.
While Halloween is widely recognised and celebrated across Western countries, it is still positively received in most Asian countries. 
In fact, it serves as a great opportunity for businesses to ride on this special event. 
Just take a stroll around the mall, and you are very likely to see pumpkins, witches or ghostly-figured decorations hanging around and are meant to steal glances from passers-by.
Regardless of the size of the business, there is nothing to lose when you incorporate this tradition into your business campaigns. 
Here are some Halloween tricks and ideas to boost promotional efforts and possibly improve your sales performance.
Make your promotional email sound scary
What's a better time to scare or instil fear to your customers than sending a scary-looking promotional email in the month of Halloween? 
Fret not about offending your customers, as they are generally aware of the occasion and would understand the reason behind the choice of words and content applied. 
However, if you do not want to take the risk, there is no harm in adding a disclaimer at the bottom of the email to clarify the purpose of doing so. 
In case you have not subscribed to any newsletters or promotional emails, email marketing is one of the best methods for businesses to engage with their customers. 
Typically, customers would receive a variety of emails from time to time and it is not surprising if your email gets overlooked. 
Hence, more thoughts should be put into finalising the email subject line especially if you have a business objective to follow through.
So, why not spice things up a little and try something different particularly for this Halloween season? 
Besides, an email message that comes with scary looking elements definitely fair better in terms of illusion. 
Or you can start things off with an unforgettable and terrifying story to entice readers to finish until the end, even better if you have a true story to share. 
Remember to link the content to any promotional activities or updates as this is the best time to encourage visitors to your website.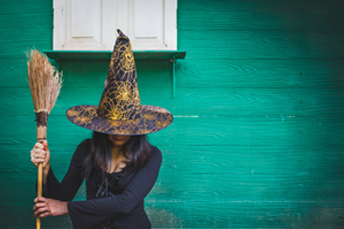 Run a Halloween-themed social media campaign
It is becoming a norm for businesses to have its own social media page or account these days as it has been regarded as one of the best platforms to get in touch with customers and build its presence online.
There is no better place to look for if you are into the latest trends or happenings, as social media is similar to a virtual city that never sleeps.
Forget about your usual social media routine for a while, and capitalise on the horror-filled month by running a social media contest weeks before the actual event. 
It can be something as straightforward as sharing a scary photo of themselves in their most creative costumes or even a comment that comes with the best Halloween-themed stories. 
And don't miss out on encouraging them to have their friends like and share their entries as this helps to increase engagement and also brand visibility on social media.
At the end of the contest period, you will have something to thank for as participants' entries and photos become a good source of content for your followers to enjoy on the actual day of the celebration. 
To make things seem more entertaining, accompany your social media post with fun ideas on celebrating the event with friends or family.
Give your website design a Halloween-makeover
Whether you intend to run your promotion for just one day or a month long, any fun or interesting festive idea is sure to get shoppers' attention fixed on your business. 
If you are willing to go the extra mile, why not also give your website a makeover so that the look and feel is associated with your other Halloween promotional campaigns. 
Sometimes, a new look or minor difference made on the layout or design can instead allow visitors to pay more attention to your website. 
Host a special treat to your customers when they visit your website by adding special effects or customising it to give them a memorable experience. 
Moreover, this doubles the fun as it also complements with the newsletter or email sent to customers.
Prepare spooky-themed marketing collaterals
Driving online campaigns and redesigning your website can be rather time consuming and effort driven as it needs to be planned in advance; resources may also be limited for some businesses. 
Hence, if those factors are your biggest challenge for a Halloween campaign, you can choose to keep it simple as well. Instead, make use of existing materials by doing simple modifications or editing where you can send them out in time. 
For instance, try editing the headlines or body copy that spells out the enthusiasm of Halloween. 
Plus, if you don't mind spending a little more effort on something more quirky, try designing your brand logo by adding elements like pumpkins, skeletons or other scary features so that it matches the theme. 
While the logo should always be a professional representation of your brand, sometimes adding in some festive flair on it could leave customers fascinated and encourage interaction.
Leaving an unforgettable impression on customers' minds
Like many other festive celebrations, Halloween happens only once a year. 
Although it might not be related to the business in any way, involving the business with the custom can actually improve the relationship with customers. 
In fact, it also leaves them with a pleasant feeling towards your brand as the effort shows how the company actually takes initiative to bond with its customers and keep things exciting at the same time. 
Furthermore, the fact that it only happens once a year makes it even more favourable as businesses can take advantage of this time to experiment with different promotional ideas each year. 
As the practice continues on a yearly basis, it leaves customers with a sense of curiosity and a feeling of anticipation for your campaigns. Sometimes, all it takes is one creative idea to have your brand imprinted in customers' minds.
For more business tips and best practices, don't forget to read out blog.