The demand for cashless payments has been on the rise. Malaysia has been moving towards a cashless society, where the usage of digital money exploded and gained momentum. Today, few of us can imagine a day without using e-wallets to transact at our favourite restaurants, convenience stores, supermarkets, and even luxury shops.  
To incentivize the move towards a cashless economy, both – the Malaysian government and the payment providers – came up with multiple benefits for merchants and users. The perks have included cash rebates, reduced transactional rates, governmental grants to shift to digital technology, and many more.   
However, a couple of questions remain: will these perks be enough for the cashless society to grow in the coming years? What other benefits do cashless payments bring to businesses? Why would your business prioritize cashless payments?  
In this article, we'd like to answer these questions and shed more light on the advantages of cashless payments and how cashless payments benefit business growth.
In simple words, what are cashless payments?
In cashless transactions, payments are made without the use of physical cash at hand. Cashless payments can be contactless or require inputting the PIN code on a merchant payment terminal.  
There are multiple ways to perform cashless payments, most of which are widely accepted across Malaysia. Cashless payments include payments made via bank cards, cheques, e-wallets, NFC, RFID, QR codes (such as DuitNow QR), and mobile devices (via Apple Pay or Samsung Pay).  
Today, most merchants operating in Malaysia accept at least one of the cashless payment methods.   
Some of the most popular cashless payment methods in Malaysia are bank cards (Visa, Mastercard), local e-wallets (Touch 'n Go e-wallet, GrabPay, Shopee Pay, MAE, Boost), international e-wallets (Alipay, WeChat Pay, UnionPay e-wallet), Buy Now Pay Later (Atome, PayLater by Grab), Samsung Pay, and Apple Pay.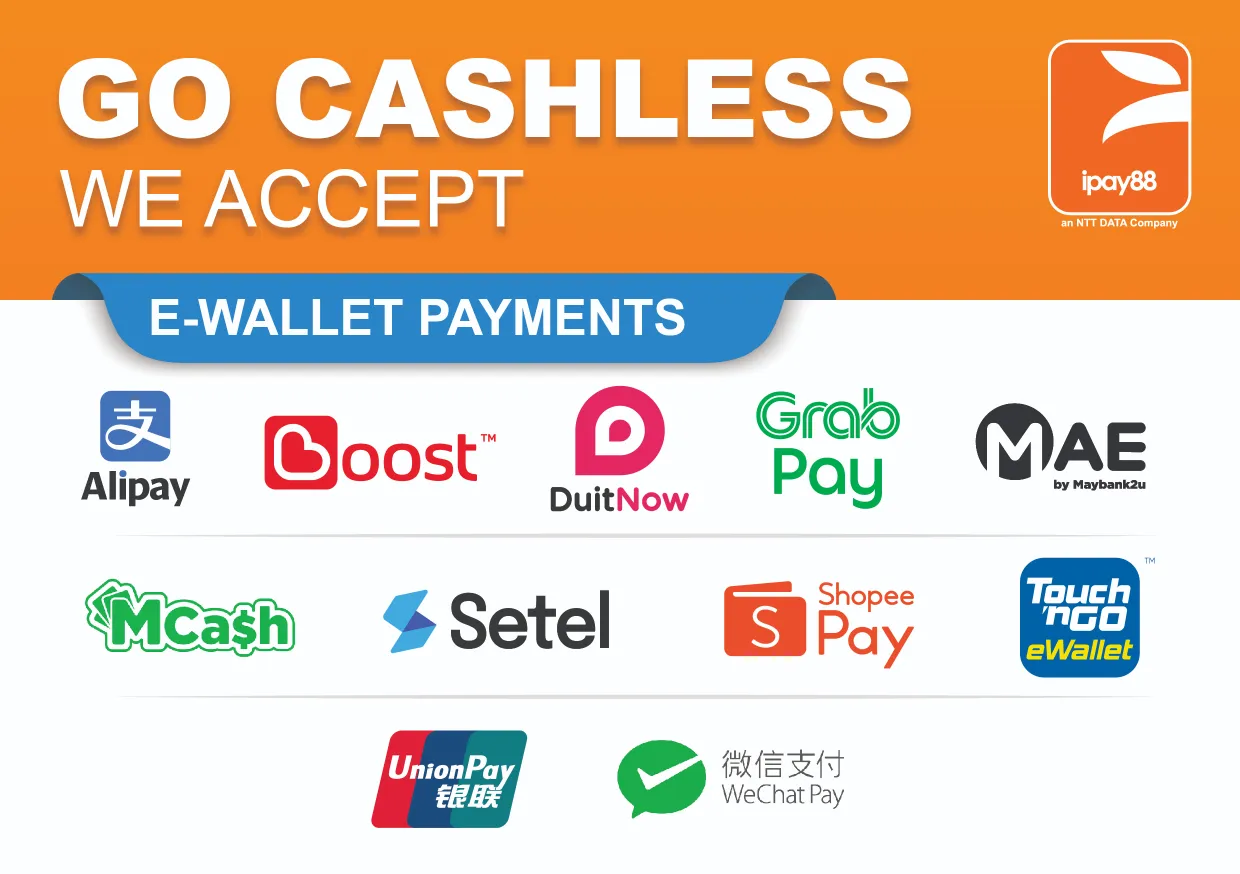 Advantages of cashless payments
According to the Visa Consumer Payment Attitudes study published in 2022, 55% of Malaysian consumers can go up to a whole week without using any cash. This is a 13% increase compared to the previous year.   
While COVID-19 contributed to the increase in the usage of cashless payments, many of the respondents in the study believed that the cashless society would also bring various benefits to them.
So why do people prefer cashless payments?
1. Easier tracking of financial records
Have you ever had trouble tracking your spending? Having a wallet of receipts and trying to consolidate them can be highly time-consuming. In the end, you're likely to miss out on some expenses, and your records won't be accurate or misleading.   
Digital payments enable you to see all expenses in your statements. Bank card issuers provide customers with monthly statements, which are easily accessible, while spending on e-wallets can be easily viewed on the e-wallet apps.   
This makes the tracking of financial records extremely easy and accurate.   
On the business side, merchants that accept cashless payments in stores have reduced the time spent on financial reconciliation. Acceptance of cashless payments minimized human errors occurring while counting the cash.   
Businesses have also praised increased transparency and the possibility of running better-targeted marketing campaigns tied to specific payment methods. By primarily accepting cashless payments, they now have a much better understanding of which payment methods are the most popular and bring in the most revenue. Therefore, users who use these payment methods can now be easier rewarded through marketing campaigns.
One of the most significant advantages that the consumers listed in the Visa Consumer Payment Attitudes study was the reduced risk of money loss due to theft. More than 50% of respondents indicated that having digital money made them feel safer with their money.  
While the users are still advised to be vigilant when transacting using digital money, the chances of theft are significantly reduced.  
However, increased security also benefits the merchants. Those who practice accepting cashless payments have reduced the collection and losses incurred due to counterfeit notes.   
On top, businesses no longer need to keep large amounts of cash in store before depositing them into a bank account.
3. Hassle-free experience
Most Malaysians are savvy users of mobile technology. Thus, using e-wallets and QR code payments doesn't cause additional challenges. In fact, users have admitted to liking the improved user experience and faster checkout compared to cash payments. Nora, one of our survey participants admits she has been using e-wallet payments whenever possible.
The best thing about cashless payments is the reduced time needed to pay. It takes much more time for the cashier to count the cash given and calculate the change. Then the customer also takes time to count if the change given is accurate. I love that I can be done with my payment in less than 30 seconds!
What is the impact of cashless transactions on your business?
Since the day that iPay88 was started, we have witnessed tremendous growth in cashless payments. This growth accelerated in the mid-2010s and exploded during the pandemic. Digital transformation during the pandemic meant survival for many businesses and has proven to facilitate their growth.   
There are multiple benefits that cashless payments can bring to your business, including convenience, improved customer-experience, safety, among others. However, we'd like to highlight two biggest impacts that are often forgotten.
1. Business growth opportunities
Since the cashless payments landscape is hugely competitive, with so many different opportunities available to users, cashless payment providers regularly organize consumer-centric campaigns.   
This is why accepting cashless payments is more than just performing customer transactions. In fact, it directly correlates with your business growth.   
These consumer-centric marketing campaigns are available to merchants and often help to drive new transactions, raise brand awareness, and get new customers – all resulting in your business growth. Not accepting cashless payments in your store means you're risking missing out on a large part of new business and limiting your business growth. 
iPay88 regularly runs consumer-centric marketing campaigns with its payment partners, and all of our merchants are welcome to be featured. The main requirement is accepting cashless payments in their online or physical stores.
2. Improved understanding of your customers
Building customer profiles and personalizing their experiences is integral to every business growth strategy. Payment plays an essential part in everyone's lives; therefore, knowing your customers' spending patterns can help you personalize your marketing approach.  
By introducing cashless payment methods, you will be able to learn more about the spending patterns that your customers have. You will understand how much, when, and how your customers like to transact.   
With access to such data, you'll be able to develop a personalized marketing strategy to increase your sales. For example, you'll be able to target customers who prefer using specific types of payments and offer them special discounts. In this way, you'll be sure to increase your conversion rates.   
Why give a credit card transaction discount to someone who uses only an e-wallet to transact?   
A better understanding of your customers will allow you to optimize your marketing spending more efficiently while achieving better results.
Are you ready to accept cashless payments?
As discussed, accepting cashless payments can significantly benefit your business. Most importantly, your customers love cashless transactions, and you should ensure they are happy with their in-store experience!  
However, if you still have doubts or questions about whether cashless payments can contribute to your growth, we advise you to get in touch with our team of consultants, who'll answer all the questions that you may have.  
iPay88 has helped over 30,000 merchants to digitalize their payment acceptance. Our solutions can be customized to meet the requirements of any business type and needs. Our team of professionals will advise you and propose the best solutions available in the market today.  
We are excited to help you start accepting cashless payments!