Cart abandonment is a complicated issue, not all carts are abandoned in the same way. Without understanding why customers abandon carts, it is impossible to reduce cart abandonment.
Ecommerce business owners easily drive themselves into exhaustion trying to make sense of abandoned shopping carts.
In order to save your precious time, we will share 5 common reasons of shopping cart abandonment and how you can address the issue on your website.
1. Insufficient product details
Shoppers tend to carry out their research about the goods that they are interested in online before they make purchases. In fact, 81% of shoppers do conduct online research before making a purchase.
If your website provides insufficient details about a product, shoppers will switch over to your competitor or other website to find those details.
Normally, customers would like to find out basic information regarding the product such as instructional video, safety operations, unedited photos, item specs, public review and origin of product.
Now, to make sure that the abandonment rate is low, you must be able to provide as many details as possible on your website.
You could also do a research about your competitors that sell similar products to ensure that your website has the same or more information about the product.
On top of that, if you feel that you have sufficient information about the product on your website, you can also implement cart abandonment emails, which will notify your customers about the products left in the shopping cart.
It can be an effective way to improve the brand's conversion rate.
2. Hidden costs
What makes online shoppers frustrated is incurring extra costs at the end of their shopping experience.
Often, unexpected shipping costs occur which make customers drop their shopping cart, as oftentimes they may seem to be unexpectedly high.
Customers demand transparency from the brands and retailers who they do business with.
Customers will abandon the shopping cart, if the shipping costs are not within the industry range or merchants add additional fees during the checkout process.
So be cautious with this! You need to be absolute honest with your customers.
Don't try to sneak in additional shipping costs toward the end of transaction.
3. Lack of payment options
Just because you are familiar with a particular payment provider, it doesn't meant that your customers will be. It could also be about convenience.
Even if a customers can use a credit or debit card, the effort involved in putting the 14-digit card numbers (especially on mobile) means some prefer to use other methods.
While you can't be expected to accept every single option, you need to have the most popular payment methods available. 
You could consider offering payment by Visa, MasterCard, American Express and PayPal as well as other payment solutions depending on the target market.
People are more likely to make a purchase, if they have more options to choose from.
4. Complex registration process
Normally, when customers shop on a website, they are required to create an account on your website to checkout.
Sometimes, shoppers don't feel the need to register, thus you should make things easy, you should offer your customers the options to checkout as a guest or to create an account using their social networks.
By all means avoid lengthy registration forms, as well as avoid lengthy check-out as people nowadays do not want to spend time on such things.
By having the main information, you will save your shoppers time, keep their attention, and will be more likely to secure a sale.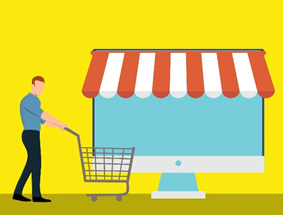 5. Comparison Shopping
When customers shop online, they would want the best deals as possible. They will compare every single website or marketplace that sell the same product, to compare the prices.
If the price is the main driving factor for the customer, then the least expensive product in the shopping cart will win them all.
By offering "best price guarantee", you boost your shoppers' confidence, as they have found out the best deal and don't need to compare the prices with your competitors.
You could also have a customer support live chat implemented on your website. Your customer support will answer the queries that your potential shopper might have.
As you can see, there are plenty of reasons behind those abandoned shopping carts. By taking the steps above into consideration, you can rectify the problem and minimise your abandonment rate.
Every ecommerce business should evaluate their performance on a regular basis, to ensure you're doing all you can to convert visitors and secure purchases.
We hope that this post will be helpful for you and thus, if you need any help, you can always contact us for consultation.